Nothing beats supporting young talent and helping them achieve their dreams. With this in mind, in 2003, we established the Canon Honours Scholarship. The Scholarship consists of a donation of $100,000 from us to the University of Sydney to create a continuing annual scholarship of $6,000. The scholarship is awarded annually to a lucky student accepted into the Marketing Honours program. The total of $6,000 is paid to the student in two equal instalments at the beginning of each semester.
Why Marketing? Creative and innovative marketing is an integral part of our business success and a specialisation that we want to encourage.
We are proud to support The University of Sydney. The university conducts research and study across the broadest range of disciplines in Australia, from the most theoretical to the most applied. They committed to finding the best in people of potential from all social backgrounds, and play a major role in its local, national and international communities.

2017 Canon Honours Scholarship recipient - Tycho Hugh

Tycho Hugh, Marketing Honours Student at The University of Sydney, was awarded Canon
'
s annual Honours Scholarship for his outstanding performance in the Marketing Honours program. Inspired by anthropological theory of the body and his parent's medical profession, Tycho set out to understand how the inevitability of death, and the possibility of living forever, interact with a person's sense of identity and thus induce certain buying behaviour.
Tycho is excited about what the future of post-study life holds, hoping to put his learning into practice with Somniumlab before returning to pursue a career in academia – focusing on bringing different schools of thought together to work more collaboratively.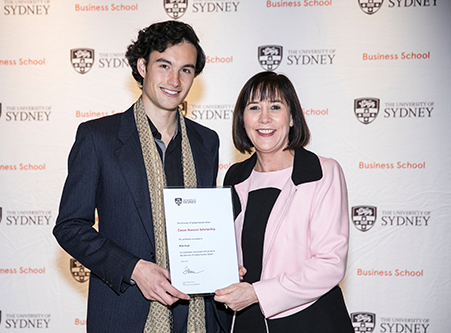 Tycho Hugh and

Sara Marshall, Director of Human Resources, Communications and Facilities
Congratulations to all of our students from previous years:
2016 - Declan O'Neill
2015 - Thomas Wylob
2014 - Nina Khoury
2013 - Miketi Arai
2012 - Millenna McPhee
2011 - Alexandra Kriz
2010 - Lindsey Paton
2009 - Samantha Yates
2008 - Benjamin Karpin
2007 - Peta Morton
2006 - Julia McIlwaine
2005 - Mitchell Burger
2004 - Karen Oliphant
2003 - Christina Ioannou
Image credit: Munesh Wali, Canon employee