In the spirit of our guiding philosophy of Kyosei - living and working together for the common good, Canon has proudly supported community and environmental groups throughout Oceania for the last 11 years.
This program supports schools, not-for-profit and community groups who are addressing both social and environmental issues in their community and inspiring change for future generations.
2018 Canon Oceania Grants
Big Fat Smile, The Nature School Primary, Ocean Crusaders and Rainforest Rescue voted as Australia's top picks across Community, Environment and Education categories!
Check out this years winners....
Community Grant Winner - Big Fat Smile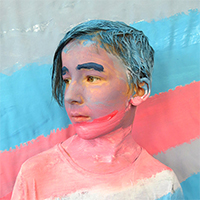 Big Fat Smile
is a not-for-profit, community owned provider of child education, care, recreation, cultural and inclusions services in NSW and the ACT. They applied for the Grant to deliver over 50 photography sessions through their after-school program, which will be themed around 'belonging'. The Grant will enable the direct hiring of a 'Photography Guru' who will run 40 lessons across more than 10 locations, reaching over 800 children. This program will allow children to participate in a rich and exciting learning experience that would usually only be available at an additional cost that may not be affordable for everyone.
"We are so thrilled to have won the Canon Oceania Community Grant for 2018. This will enable Big Fat Smile to introduce the creative art of photography to more than 800 children through photography activities and lessons, across 10 of our After School Care locations. As a Not-For-Profit Organisation committed to developing imagination and creativity in children, this new program could not have happened without Canon Australia's support" – Jenni Hutchins, Big Fat Smile CEO
Environmental Grant Winner - Ocean Crusaders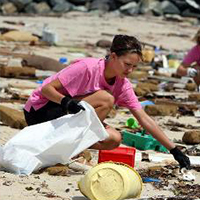 Ocean Crusaders aims to mitigate plastic pollution from coastal waterways and beaches to enhance the quality of life for current and future Australians, raising awareness of the individual's environmental responsibility. They applied for the Grant to enhance community participation in their clean up initiatives on three of Moreton Bays' major islands. The Grant will provide the necessary equipment to document their clean-up events and assist in their record keeping, as all debris recovered from islands will be documented and logged with the Australian Marine Debris Database. The footage would be invaluable for updating their online educational and classroom presentation.

"With our new Canon Camera with video pack, Ocean Crusaders will be able to document the debris we collect at clean ups better. It is essential that we document everything we collect as often debris can be foreign or from a particular source. Once we know the source we can prevent future pollution, hence stopping it at the source. The video features of the camera will enable us to create high quality short clips for release to the public so they know about the issue and can play their part in helping us stop it." – Ian Thompson, Ocean Crusaders Founder and Managing Director
Education Grant Winner - The Nature Primary School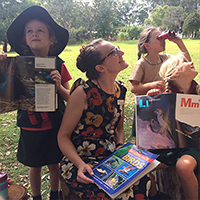 The Nature School's mission is to create a community where children learn and shine through authentic environmental experiences, becoming active global citizens for a sustainable future. They applied for the Grant to develop a project for students to create a high quality, accurate, photographic field guide of local flora and fauna in Port Macquarie for presentation to the local community. The Grant will provide the necessary equipment to complete the project and enable the creation of a photographic field guide that will allow students to engage in citizen science. This program will enable students to understand the impact of species decline, and share this impact with the local community.

"We are thrilled to be the recipients of the Canon Oceania Grant this year in the Education category. Students at The Nature School Primary are becoming so knowledgable about flora and fauna in Port Macquarie and they are keen to share their learning with others. This generous grant will not only put quality cameras into their hands to allow them to document their observations, but will also allow them to create their very own field guide we can share with the local community."

"I strongly believe that even young children are capable of producing quality images if they are given the right tools to work with, and provided with the right opportunities. I am so grateful to Canon for partnering with us as we embark on our journey to create a field guide, and I can't wait to see the natural world through the eyes of our young students." – Catherine Oehlman, The Nature School Primary Head Teacher
Runner Up - Rainforest Rescue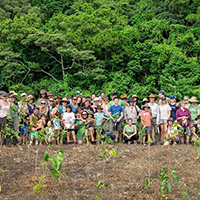 Rainforest Rescues'
mission is to protect rainforests, where 75 per cent of Australia's rainforest is destroyed as areas of coastal lowland rainforest remain unprotected. They applied for the Grant to facilitate a program that will determine the health of trees in the Daintree Forest lowlands, and restore damaged rainforest blocks. The Grant will provide the necessary equipment to accurately and visually measure tree growth and loss within restoration sites, and document the success of their planting. This program aspires to fully restore the dwindling rainforest, connecting it to an adjacent intact rainforest.
"Rainforest Rescue is thrilled to be a recipient of the Canon Oceania Grants. A large part of our job is sharing the natural wonder of what we're saving with our members and the public. We can try to describe the magic and beauty of the Daintree Rainforest but in this case a picture is worth a million words."

"Thanks to Canon, we'll be able to share the Daintree with the world and also document our achievements and visually demonstrate the impact back to those individuals and businesses that make this possible."
- Kristin Canning, Business Partnerships Manager
Main image credit: Camera Story