If you use counterfeit camera accessories – specifically counterfeit batteries, chargers, or external flashes – there is a real risk you might hurt yourself or damage your camera. The information on this site can help keep you and your equipment safe.
X-ray image of a genuine Canon battery charger and counterfeit charger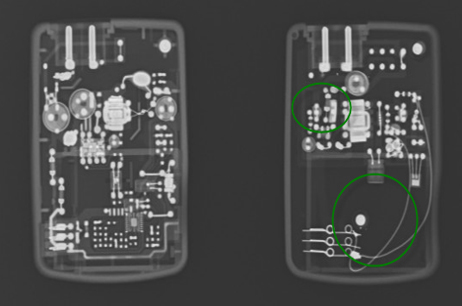 Genuine Canon Battery Counterfeit
The battery charger on the left is the genuine product. It weighs a lot more (60g) than the counterfeit product (46g). The counterfeit product certainly does not have proper safety circuitry (that meets Australian standards). Lithium Ion batteries that are not protected from overcharging can overheat and catch fire or even explode.
Spot the Fake Video
Canon went out and spoke to average consumers to see how easy it was to 'Spot the Fake'. Do you think you could do it? Check out this YouTube video.
Click here to read more about taking care of your lithium-ion batteries in your camera.

10 tips to help you avoid buying and identifying counterfeit products
1) Always purchase your Canon products and accessories from an authorised dealer or directly from Canon.
2) Beware of "too good to be true" prices - when an offer seems too good to be true, the chances are IT IS too good to be true. Check out the reputation of the seller and don't be afraid to ask questions.
3) Be careful buying through overseas sites - counterfeit products are more common overseas than they are in Australia. Check out the site and/or the seller first.
4) Check the packaging and ensure it is of high quality. Legitimate Canon products will always meet Canon's high standards and always look for our brand and anti-counterfeiting hologram.
5) Beware of non-packaged goods. Counterfeiters will often sell their products loose (without normal boxed packaging). Always check with the seller as sometimes there may be a reasonable explanation although this is not very likely (second hand or damaged goods would not fall into this category).
6) Make sure the battery fits your product with ease before turning it on. You should not have to force a genuine product to fit.
7) Overheating, unlike genuine Canon products, counterfeit batteries, chargers and external flashes do not normally follow Australian safety standards and we have been made aware of consumers who have had their product overheat, melt or explode when in use.
8) Battery life. Every Canon battery should charge and hold its charge the same as your previous product, so issues with battery life may be an indicator of a non-genuine product.
9) Check the branding on your current Canon products and compare it to the logo on the questionable item. Every genuine Canon product will meet the high standard Canon maintains for its brand and logo. If it doesn't look right then it might not be right.
10) If in doubt get Canon to check it out. If you have concerns about an item you have bought or an item you are thinking about purchasing, contact Canon directly and we can help you.
Most common counterfeit products in the Australian market:
- Canon batteries for all camera types
- Canon battery chargers
- Inks for Canon printers
- Speedlight Flash
- Camera Grip
You should be vigilant when making any purchase to ensure that you are getting the quality products for you and your existing Canon equipment.
Why avoid Counterfeit products?

Safety risk: Counterfeit Canon products have not been manufactured and tested to the strict quality standards of genuine Canon products and can cause harm to a person or product if used. Counterfeit batteries can generate excessive heat, leak or explode when used, causing serious personal injury or irreparable damage to a product.
Quality: Counterfeit Canon ink and toner cartridges can leak, block a printer's print head or lead to colour blurring and streaking. These cartridges are also likely to offer significantly less print capacity than genuine products. The print capacity of counterfeit cartridges that Canon has tested range from 28% to 69% compared to genuine cartridges.
Environmental Impact: All Canon genuine products comply with Australia comply with all Australian safety and product standards. Counterfeit products are unlikely to comply with these laws as their origin ingredients and production are unknown and therefore cause a greater risk to the environment.
Links to organised crime: The production of counterfeit products and subsequent sale is illegal and often produced and run by organised criminal enterprises who use the proceeds of counterfeit activates to fund across crime types (using the funds to run other operations including money laundering, drug trafficking, gun and people trafficking to name a few).
What does Canon do to protect our customers?
Protection: The Canon name and logo are officially registered as trademarks and with Customs offices in more than 30 countries to allow formal surveillance and seizure of suspected counterfeit products.
Technologies: Canon has and will continue to develop and implement security measures to help customers identify genuine Canon products.
Co-operation: Canon co-operates with national and international authorities and organisations, including police, customs and trading standards, to help them identify counterfeit Canon products and remove them from the market.
Education: Canon provides training and education programs and seminars to police, customs and other Government authorities to assist them to identify counterfeit products.
Don't forget to read more about taking care of your lithium-ion batteries in your camera.
Have a question?
Please contact Canon's Fraud & Counterfeit Manager on +61 2 9805 2739 or via email at AntiCounterfeit@canon.com.au.