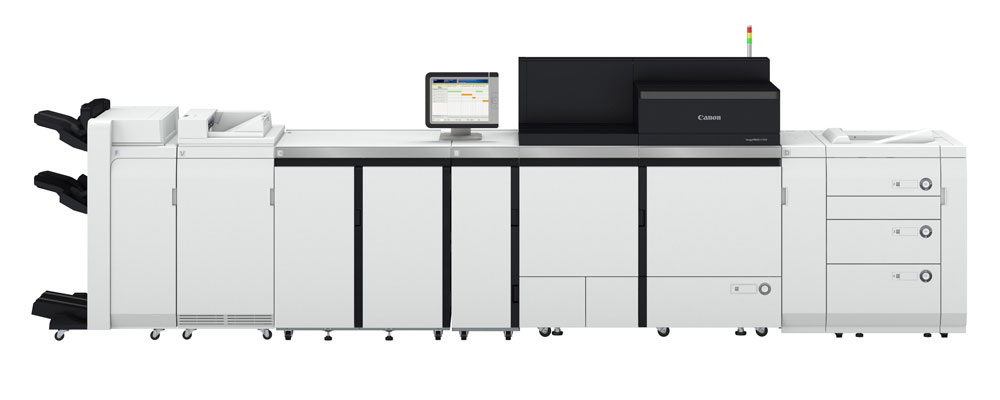 Sydney, AUSTRALIA – 16 August 2023: Canon Australia today announces the launch of the new imagePRESS V1350 Series, offering exceptional performance and high productivity in its class of colour toner production presses.
With a top speed of 135 pages per minute, it handles monthly volumes of up to 2.4 million A4 pages, thanks to its robust build. The inclusion of an optional vacuum-feeding mechanism, a flatter paper transport path, the advanced Print on Demand-Surface Rapid Fusing (POD-SURF) unit and integrated cooling system supports long, continuous periods of top-quality printing at high speed. This allows both commercial and in-house print service providers to turn around high volume and demanding jobs quickly without compromise.
The imagePRESS V1350 Series provides offset-like quality that is maintained from the first to the last sheet of every job, whatever the run length. The Multi-D.A.T. colour correction system automatically preserves colour stability even during continuous runs, with the built-in, In-Line Spectrophotometric Sensor (ILS) automating accurate colour adjustments when needed. The V1350 Series is designed to produce high-quality print applications such as brochures, leaflets, high end mailings and cards, and offers a high level of accuracy in its class for front and back registration (0.5mm), thanks to its advanced registration technologies.
The V1350 Series supports a broad media weight range (from 60gsm and up to 500gsm¹) for a colour toner press and a wide selection of paper types (including embossed and synthetic). Offering full compatibility with the extensive range of inline finishing equipment from Canon and leading technology partners, the V1350 Series allows print providers to offer their customers digital runs of any length across a huge variety of print products. 
Yoshinori Moritaki, General Manager Product Marketing at Canon Oceania comments,
"We are delighted to add the powerful V1350 to our imagePRESS V series family. This will enable both commercial and in-house print service providers to work better, faster and with greater scope. It also provides their customers with more high-value print products.
The top-of-the range V1350 has been built through a combination of proven patented technology and customer feedback. It brings a fresh perspective to digital toner press design and is an ideal solution for print service providers."
The imagePRESS V1350 series is also equipped with real time colour consistency controls as well as other options, such as a Sensing Unit to enhance automation of quality control tasks.
To find out more about the Canon imagePRESS V1350 Series, visit: https://canon.com.au/production-printers/imagepress-v1350
Availability
The imagePRESS V1350 Series will be commercially available from Canon and accredited partners from 16 August 2023.
¹ 500gsm media handling is not available on all optional accessories. Please ask your Canon Account Manager to explain the details.