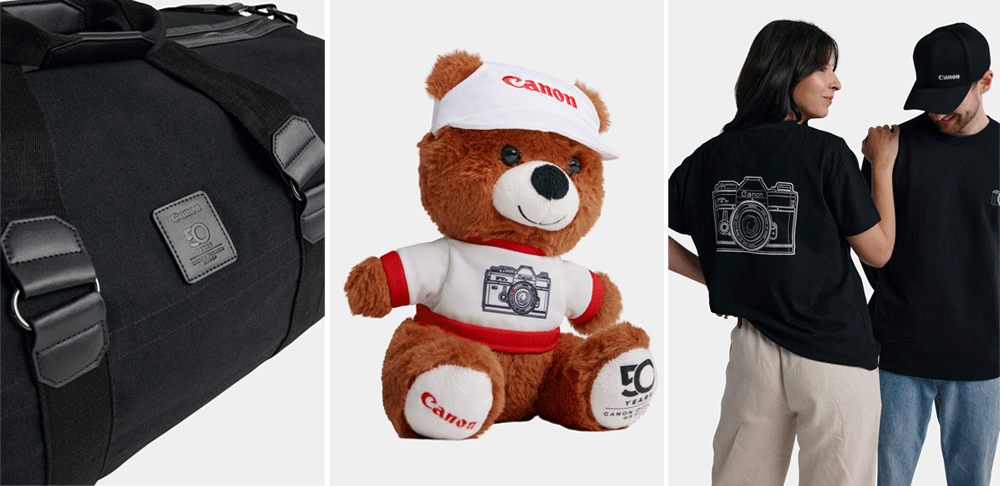 Left to right: 50th Anniversary Duffle Bag, Teddy Bear, 50th Anniversary T-Shirt with iconic FTb camera on back & Classic Cap
Sydney, AUSTRALIA – 9 November 2023: Canon, the world's leading imaging brand, today announces the launch of an exclusive limited edition merchandise range previously unreleased in the country.
The branded merchandise is the latest of several projects this year which celebrates Canon's 50th Anniversary in Oceania. Canon strives to innovate through technology and solutions and make a difference for people and communities in the Oceania region; the limited edition merchandise offers another avenue to connect with customers in a new and exciting way.
In time for Christmas, the merchandise is available from 9 November until stock runs out. The range offers a curated selection of apparel, totes and accessories, with some items branded with the 50th year anniversary logo, including an official collectible Canon teddy bear.
"Canon has incredibly loyal customers who are passionate about their craft and the imaging products they use," says Kotaro Fukushima, Managing Director, Canon Oceania. "We're both humbled and inspired everyday by those people, and their love for what they do fuels our innovation. It's important that we continue to find opportunities to engage and build relationships with Canon's supporters. Our customers have been asking for limited edition merchandise through our social channels, so we're delighted to be able to offer it to them as part of our 50 year anniversary celebrations".
You can purchase the products exclusively from https://merchandise.canon.com.au. Merchandise available for purchase and shipping in Australia and New Zealand only while stocks last. An overview of Canon Oceania's 50-year history can be seen here.
The range of merchandise includes:
• Plush Teddy Bear (RRP $49.95)
Part of the exclusive 50th Anniversary range, this adorable plush features removable Canon embroidered cap, custom t-shirt with the iconic FTb camera and classic Canon red detailing.
Material: Body + fill: 100% polyester. Costume: 80% cotton, 20% polyester
Size: 16cm x 12cm x 20cm
*Not suitable for children aged 0-3 years.
• Classic Cap (RRP $29.95)
Classic black baseball cap with Canon embroidered logo and buckle adjustable fastening on the back of the cap. Featuring an antibacterial, quick dry sweatband to absorb excess moisture helping to keep you comfortable throughout the day.
Material: 70% polyester, 30% rayon
One Size: 58cm
• 50th Anniversary Tote Bag (RRP $49.95)
Part of the exclusive Canon 50th Anniversary range, this 100% cotton canvas tote bag is the perfect everyday bag to hold your daily essentials. Featuring a print of the iconic FTb camera, along with a custom Canon lining, the bag handles pay homage to the classic Canon camera strap.
Material: 100% cotton canvas
Weight: 450g (16oz)
Max weight load: 10kg
Size: 53 W x 35.5 H x 20.5 D cm
• 50th Anniversary Metal Pin Set (RRP $24.95)
Limited edition collectable Canon metal pin set of four featuring replicas of some of Canon's iconic cameras and lenses. The pins use a butterfly clip backing.
Material: Die-struck iron, soft enamel
Size: approx. 40mm wide per pin
• 50th Anniversary T-Shirt (RRP $49.95)
This t-shirt features the Canon 50th Anniversary logo on the front with an illustrated outline of the iconic FTb camera on the back. Available in black and made with 100% cotton, the style is a relaxed fit with classic crew neckline.
Women's sizing: XS-2XL
Men's sizing: S-5XL
• Puffer Vest (RRP $159.95)
Transition through the seasons with this staple puffer vest. Made with a 100% soft polyester fill to trap heat, the vest has two pockets and zip detail down the front. Available in black with a white printed Canon logo on the left chest.
Unisex sizing: XXS-5XL
• Crew Sweater (RRP $89.95)
Pullover style jumper made with 100% cotton. Available in black with a printed Canon camera on the left chest.
Men's sizing: S-5XL
Women's sizing: XS-2XL
• Hoodie (RRP $120.95)
Heavyweight and made with 100% cotton, this Canon classic hoodie features a ribbed hem and cuffs with kangaroo style front pocket. Available in black with a white printed Canon logo on the front left chest.
Unisex sizing: XXS-5XL
• 50th Anniversary Duffle Bag (RRP $149.95)
Large black 100% cotton canvas duffle bag ideal for a weekend away, gym wear, or camera gear. The main compartment has a zipped side pocket at each end providing plenty of space for travel and daily essentials. The bag has a custom Canon 50th Anniversary logo lining with a Canon debossed black leatherette patch.
Weight: 454g (16oz)
Size: 640mm L x 260mm H x 280mm D
Adjustable shoulder strap: 50mm W x 1400mm L Max weight load: 15kg