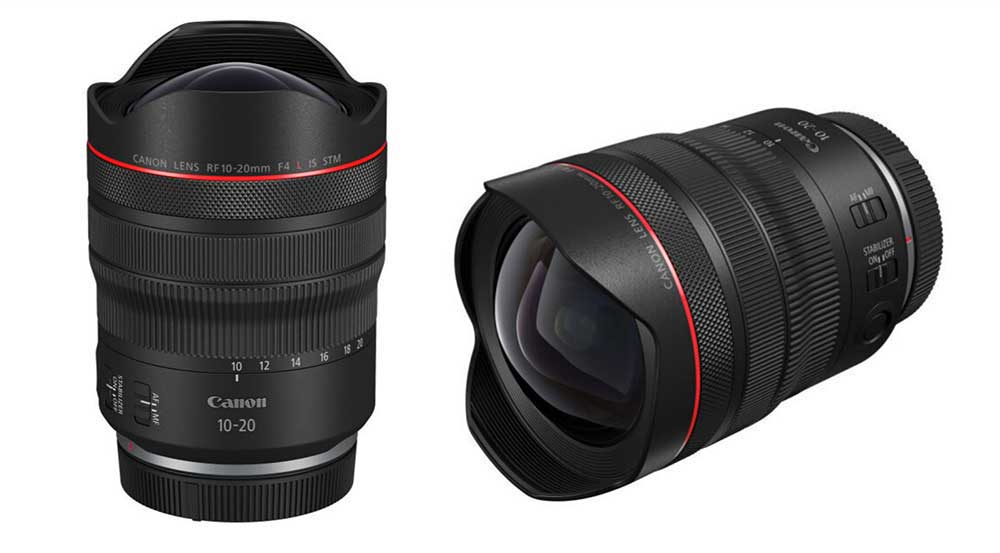 Sydney, AUSTRALIA – 11 October 2023: Canon Australia today announces the launch of the RF 10-20mm f/4L IS STM, a new addition to the L-series range for photo and video professionals. Offering limitless possibilities by enabling an extreme ultra-wide shot, the RF 10-20mm f/4L IS STM provides superb image quality, all in a compact size.
The ultimate ultra-wide shot
The lens builds on the capabilities of our latest RF mount as Canon's widest RF zoom lens1 with an angle of view of up to 130°. Featuring a zoom that ranges from 20mm wide-angle to an exceptional ultra-wide 10mm focal length, users can now achieve a shooting area more than twice that of a 16mm focal length.
Fitting more in the frame allows for fresh perspectives when it comes to capturing dramatic panoramas. Photographers can add extra foreground interest, capture tight interiors and architecture, and add depth to landscapes, and filmmakers can be more creative with awe-inspiring establishing shots.
Every detail, just as it should be
The new lens delivers incredible image quality in a wide-angle lens, achieving sharpness and clarity, and substantially reduced distortion.
Engineered to the highest standard, the RF 10-20mm f/4L IS STM incorporates the latest Peripheral Control Image Stabilisation (IS) technology which allows crystal-clear, shake-free images even in challenging shooting conditions or without tripod access. The new IS helps produce shake free images from centre to the edge of the frame and offers five stops of optical stabilisation or six stops in combination with an in body stabilised camera. Its advanced rectilinear optical design means you can expect a crisp and accurate outcome – so straight lines remain straight, even at the edges of the frame, all thanks to an advanced optical formula. A constant f/4 maximum aperture provides consistent exposures at every zoom setting, and state-of-the-art optical coatings minimise ghosting and flare which can be common with ultra-wide shots.
Ultra-compact, ultra-portable
The advanced tech comes without compromising ease-of-use. The RF mount provides outstanding image quality due to its compact design that boasts significantly increased communication speed and bandwidth between camera and lens compared to when using an EF mount lens and adapter.
Weighing just 570g, the RF 10-20mm f/4L IS STM deserves a permanent place in your kitbag. It's less than half the weight (610g lighter) and 2cm smaller in width and length than the EF 11-24mm f/4L USM – in fact, the new lens paired with an EOS R8 weighs less than the older EF lens alone. Shooting with limited space not only becomes easier with the new IS technology and a wider angle of view, but your bag will be lighter too.
Built for professionals
Due to its superior image quality, greater capacity for wide-angle stills and video, and lightweight design, the RF 10-20mm f/4L IS STM is an essential upgrade for photographers and videographers looking to push their capabilities to the next level. While it's ideal for capturing landscapes or architecture, the lens can also highlight different perspectives when shooting sports or documentaries. The RF 10-20mm f/4L IS STM is reliable in a variety of weather conditions, and is resistant to dust and moisture.
Key features and attributes include:
• The aspherical, Super UD, and UD lens elements (including one Aspherical UD element) which help to achieve high image quality appropriate for an L lens
• Highly durable dust and water resistant qualities, to withstand rigorous conditions faced by professionals
• SWC (on 2 lens surfaces) and ASC (Air Sphere Coating) reducing ghosting caused by light sources within the image, a phenomenon often seen in wide-angle lenses
• First L series lens to feature STM motor and full-time manual focus capability, thanks to compact lightweight focus group
To find out more about the RF 10-20mm f/4L IS STM lens, please follow the link: www.canon.com.au/camera-lenses/rf-10-20mm-f4l-is-stm
Pricing and availability
Pricing will be set at dealers' discretion
The RF 10-20mm f/4L IS STM lens is priced at $4,199 RRP (including GST). Available in Australia from this month, the lens will be supported by Canon Australia's 5-year warranty when purchased from an authorised Canon Australia reseller2.
1 As at 11 October 2023.
2 Applies to purchases made on or after 25th November 2019 in Australia from authorised distributors, dealers or retailers.