Solution
This digital camera can be used overseas. Please refer to the following things when you plan to use it overseas.
The dedicated AC adapter kit and the battery charger are compatible with AC100 to 240V, 50/60Hz power supplies.
You need to use a power adapter when you plug in your camera or the battery charger in areas using different types of power outlets. (There might be cases where the power outlet types differ within a country depending on the area.) For information about power adapters, consult with a local travel agency or home appliance shops.
An example of how to plug the battery charger into the power outlet (using a power adapter)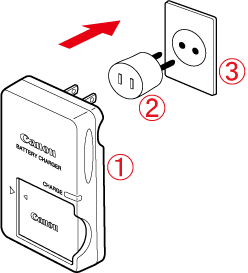 Battery charger

Power adapter (The configuration differs between countries or areas. Purchase one that is used in your travel destination.)

Power outlet (The configuration differs between countries or areas.)
Caution
Never use an electrical transformer designed for traveling, which may damage the battery pack.
The camera warranty is valid only in the area of purchase. In case of camera problems while abroad, return to the area of purchase before contacting a Customer Support Help Desk.
Use of genuine Canon accessories is recommended. This product is designed to achieve excellent performance when used with genuine Canon accessories. Canon shall not be liable for any damage to this product and/or accidents such as fire, etc., caused by the malfunction of non-genuine Canon accessories (e.g., a leakage and/or explosion of a battery pack). Please note that any repairs your Canon product may require as a result of such malfunction are not covered under warranty and will incur a fee.