When the camera is connected to a Windows 8 / 8.1 operated computer, and the computer does not recognize the camera, follow the instructions in order.
Caution
Importing problems may occur if there are too many images (more than 1,000) on the memory card.
In this case, use a memory card reader to import the images.
1. Try connecting the camera to a different USB terminal.
If there are multiple USB terminals on your computer, connecting the cable to a different USB terminal may allow the camera to be recognized by the computer.
2. Change the USB cable connecting the camera to the computer.
The computer should recognize the camera once the USB cable is changed and reconnected to the computer. Use a cable that has a Micro-B plug for the camera. A genuine Canon accessory is also available (Interface Cable IFC-600PCU).
3. Try using the Device Manager
Caution
Leave your computer and camera connected through the USB cable.
Connect the computer and the camera, and turn the power on the camera off and on again.
1. Click [Hardware and Sound] in the [Control Panel].
2. Click [Device Manager].
3. Double-click [Portable Devices].
4.
Click the model name of your camera, then
click [
].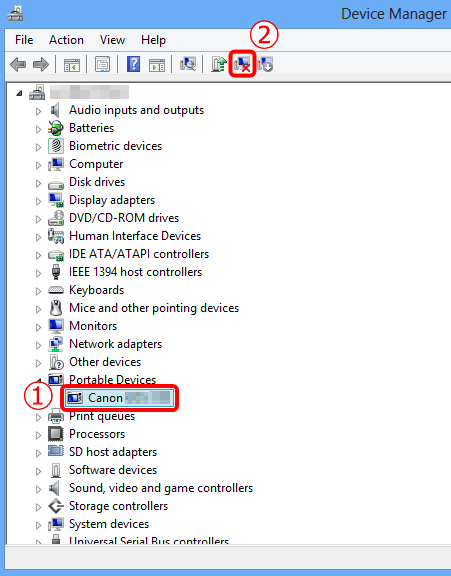 Caution
If camera name is not displayed, go to step 6.
5. Click [OK].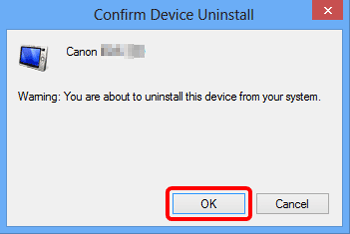 6. Click [
].
Caution
If camera name is not displayed even after clicking on [
] ( Scan for hardware changes ) , there is a possibility of other issues. Try using the cardslot or card reader instead. See Related information for more details.
7. If the camera is recognized, the following screen will be displayed.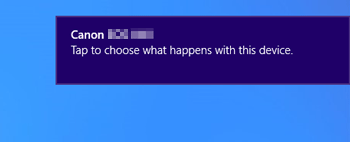 Caution
For information on transferring images to the computer, see Related information.