Solution
This printer cannot automatically detect the paper size. Therefore, you need to register the size of the loaded paper.
Register the paper size using the following procedure. (The paper size setting is set to [A4] by default.)
Caution
Precautions when specifying [Mixed Sizes]
The printer performs printing without checking the paper settings in the printer driver.
Make sure that the paper specified in the printer driver matches that loaded in the paper drawer before using the printer.
If you are using the UFR II printer driver, load custom size paper whose long edges are 215.9 mm or less in landscape orientation.
1. Press [

] (

: Feeder Selection).
2. Select the paper source using [

] and [

], and then press [OK].
Select either [MP Tray Paper Size], [Drawer 1 Size] or [Drawer 2 Size].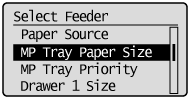 3. Select a paper size using [

] and [

], and then press [OK].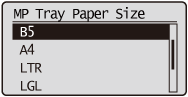 → Paper size is registered.